Hope Church Charity Community Christmas 2020
Posted 2nd February, 2021
At Station Couriers, we pride ourselves on giving back to local charities. For the past 10 years, we have worked with Hope Church at their Community Christmas event, which tackles food poverty and social isolation in the elderly and vulnerable.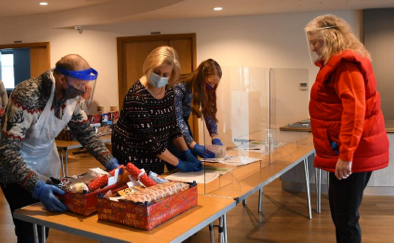 They were able to safely provide comfort, company and nourishment for both the referrals and volunteers alike, to create a meaningful Christmas day connection that was needed now more than ever.
The event meant that:
81 meals were delivered to 62 homes around Newtown and the surrounding area
12 local businesses and charities (local and national) made donations
5 local volunteers: shopped, wrapped and packed 'Christmas meal boxes'
10 local volunteers prepared, cooked and served on Christmas Day
53 volunteers delivered Christmas meals to homes in our community
One recipient of their Christmas meal box stated:
'I am so grateful that you brought me a beautiful Christmas meal. This was a lovely thing to look forward to, as i have been on my own for many years.'
We are always proud to work with this amazing local charity, to help show the people who need it most that they are valued and cared for. Well done to everyone involved and we can't wait to help do it all again this year!